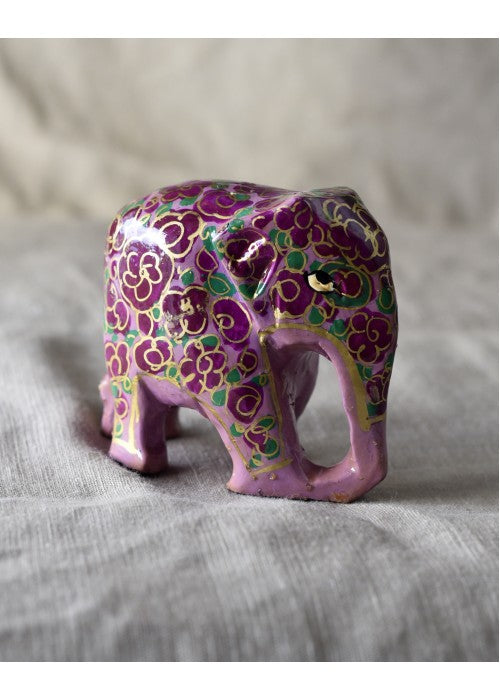 All of our Papermaché Products!
This family firm was founded in its present form in 1974, but a family tradition of skilled paper mâché worked goes back over three generations. The group had catered for the needs of tourists and locals alike with their beautiful hand painted classically designed boxes. This was the time when tourism was the backbone of local economy, offering trekking in the Himalayas and idyllic stays on the famous Kashmiri house boats on Lake Sri Nagar. In these conditions the firm flourished, the three brothers built and maintained a state of the art factory in Sri Nagar, with artisans travelling in to work from the surrounding rural area. They offered stable working conditions, with wages that guaranteed a regular income, to assist families trying to make a living out of subsistence farming in the hills.
The firm continued to do well until 1987. This was the year when a disputed election created a state of political unrest that was the beginning of Kashmir's 'troubles', or as they call it 'The Militancy'. The government in Delhi declared a state of emergency and the army was sent to Kashmir to keep the peace. Things rapidly deteriorated and strict curfews were imposed.
Tourism disappeared overnight. Mothers sent their children to school, not knowing if they would return alive. Business collapsed in this hostile environment. Factories and all places where people gathered became targets for bombs. The group's workers came to their employers for help and guidance in these dreadful times. It was not safe for them to work at the factory, but they had no other means of survival. It was then it was decided the factory would close and the artisans could work from home.
Some difficult years followed, as the tourism orders dropped off and export became increasingly difficult with 'The Militancy' situation. The firm were determined to support their artisans, who were fully dependent on them and continued to pay them to make papier mâché goods. They did not have orders for these and stock piled them in Sri Nagar. Finally, the eldest brother had a lucky breakthrough when he sold a full container of the stock to a man in Paris. With the money from this sale, he was able to travel to the States where he had some more good luck. He toured the States trying to sell his traditional papier mâché boxes and one afternoon while visiting a zoo gift shop, he was struck by Christmas theme badges for sale there. In a Eureka moment realised he could market papier mâché Christmas baubles and boxes. He returned to Kashmir and designed a range of Christmas papier mâché products. He showed the samples at a trade show in Delhi and took many export orders. He was able to sell his back stock as well. As the situation stabilised in Kashmir and as the export business grew things improved for the firm. He was able to re-instate a packing unit in Kashmir, where the goods are gathered, checked and packed for export. It is safe for a handful of employees to work here. The majority of the production is carried out as a cottage industry.

Even over thirty years later, the region is not totally stable. Security is very tight, travel is difficult and there are still frequent curfews. Visitors to the region are limited and scrutinised.

Amongst all these difficulties over so many years, the firm is proud that they have supported their artisans, and their families, with steady employment.

By 2007 the firm had saved enough to fund a massive project. They built a hospital in Sri Na-gar, which is funded by them. This opened on 1st April 2010 and offers medical treatment to those who cannot otherwise afford it.